Høje-Taastrup's New Town Hall – Concrete Recycling – a Pioneering Project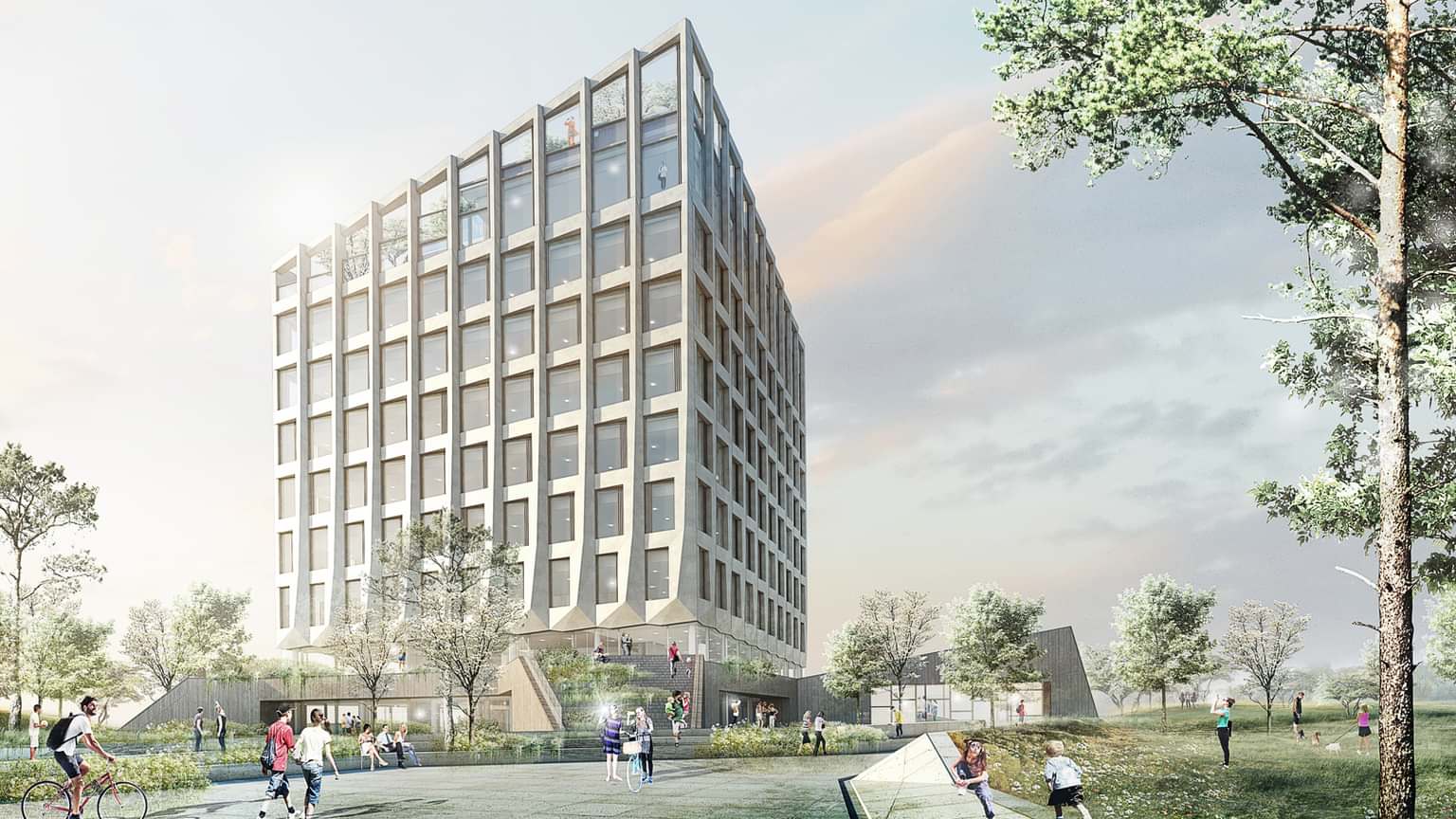 Høje-Taastrup's new DGNB Gold-certified town hall is part of a major urban development project. Envisaged as a modern workplace, the town hall welcomes the citizens inside and stands as a striking landmark in the new urban center that will become a vibrant green area.
1,400 m2 of the town hall facade will be made of recycled wood. The foundation of the town hall will be made of 61% recycled concrete from the local Taastrupgaard demolition project. The certification also involves requirements for the soil balance. Part of the soil excavated from the town hall site will be moved to the site where the recycled concrete comes from. The wish to recycle concrete in the construction project is part of the tender and underscores the Capital Region of Denmark's increased focus on sustainable construction. In 2018, the region estimated that the Copenhagen Metropolitan Area would only have raw materials for the next 10 years, making it important to implement alternative and sustainable solutions in the future.
In connection with the construction, CO2 savings are expected to be gained from:
Recycling of more than 2,000 tons of concrete, of which 1,088 tons of recycled aggregate are used for the town hall foundation, corresponding to 27 truckloads of raw materials that would otherwise have been extracted from the subsoil
A reduction in the transport of concrete aggregate by 50%
A reduction in the transport of soil of approx. 15 tons CO2e
Moreover, a CO2 reduction potential of 30 tons CO2e can be gained since 80% of the soil stays on the construction site.
The concrete has been made in cooperation with various players, including a concrete lab, a waste management company and a concrete manufacturer that has made the concrete using 100% recycled rock. The concrete is cast from CE-marked materials subject to accredited, certified production control. The concrete has thus undergone a rigorous test program and has been quality assured. The town hall will become the first major public building in Denmark that uses recycled concrete.
For more information, contact
Ditte Hejberg Sorknæs


Head of Marketing and Communication

+45 60576516
dhs@casa-as.dk