Sustainable Co-living in Green Surroundings
Tømmerup Parken (Plushusene), Kastrup
103 public housing as a combination of terraced houses, tower blocks and generation houses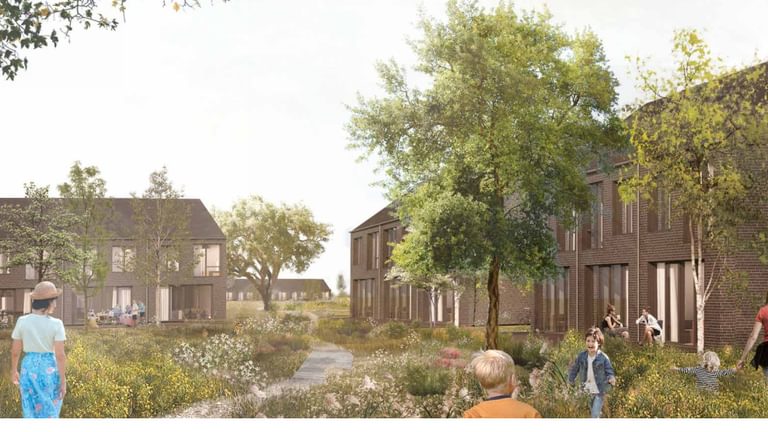 CASA is building public and private apartments in collaboration with PAB and Plushusene. The project is carried out in close cooperation with Tårnby Municipality where we will be creating better and more coherent residential areas that focus on community and recreation.
Tømmerup Parken is a new residential complex in Tømmerup Haveby and comprises 40% of Tårnby Municipality's new residential area.
The project involves construction of 103 public housing as a combination of terraced houses, tower blocks and generation houses. The housing is intended for families with children as well as seniors and gather multi-generational families. The housing has easy access to common outdoor spaces, while providing for privacy and family time.
The outdoor spaces will be established as an outdoor playground with an LDR system for collecting rainwater.
Plushusene teams up with CASA to build 155 private apartments These apartments are also intended for families with children, seniors, singles and varying family formats. The project also involves a communal house, communal kitchen and a small sports center to strengthen the sense of community and the vision of a coherent residential area.
The project focuses on sustainability thorough DGNB Gold certification of the private homes and waste management and use of green power on the construction site. The sustainable measures are undertaken for both the private and public housing, even though the public housing will not be certified.
The public housing will be built in two stages, Plushusene will be built in four stages. Both projects are expected to be complete by August 2023.
Contact for information about the construction project
Claus Møller


Director, Construction East

+45 75627900
cm@casa-as.dk