Urban Space on Top of a Three-story Underground Carpark
Langelands Plads
Three-story underground carpark, public areas, including playground, paddling pool and cozy nooks as well as Denmark's first cloudburst reservoir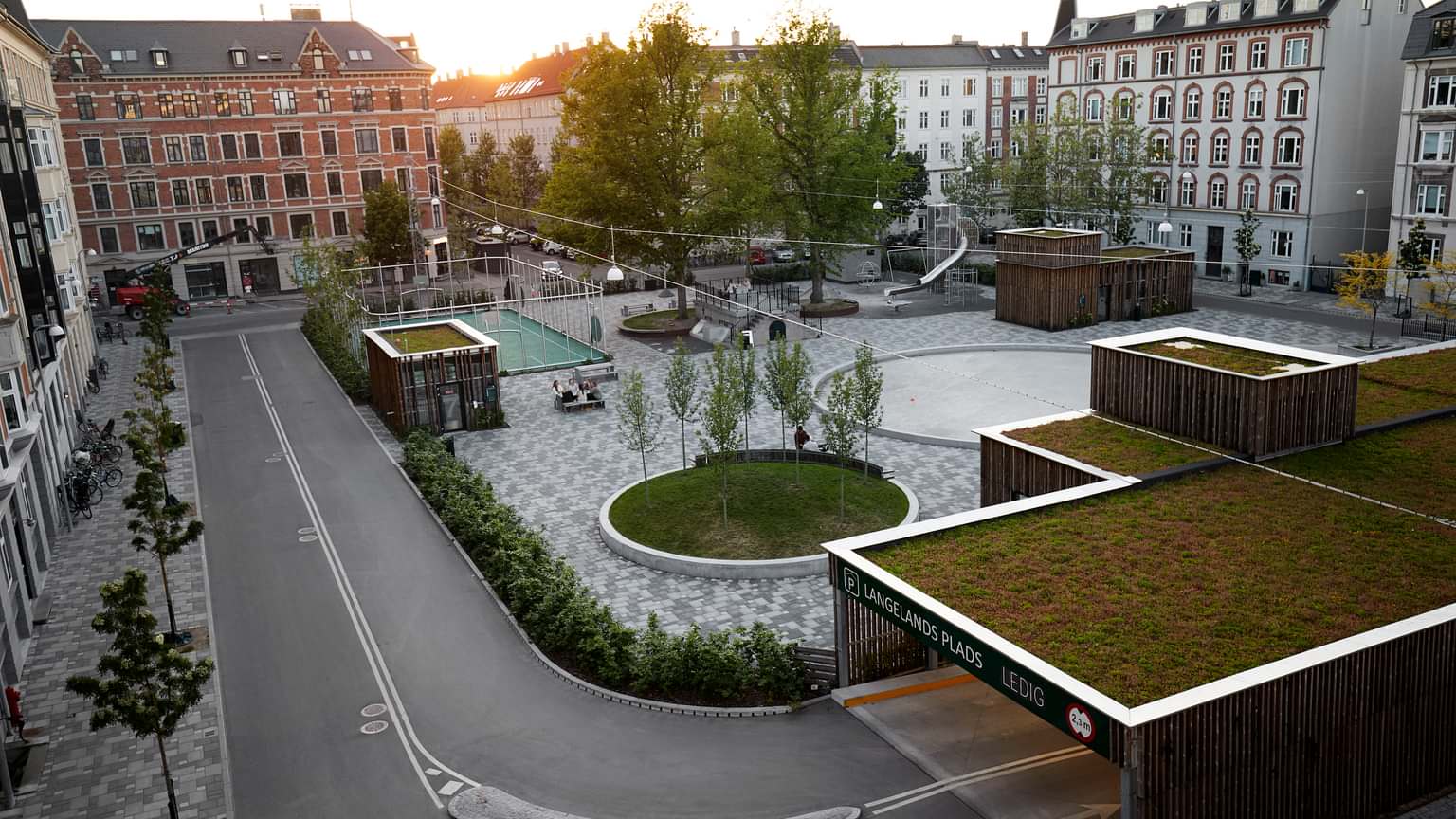 The project consists of a three-story underground carpark basement with 207 parking spaces and establishment of public areas and a cloudburst reservoir.
Above ground, the building integrates with the surrounding urban space. This means that a playground, a 300 m2 paddling pool and cozy nooks with benches screened with evergreens have been established on Langelands Plads. The City of Frederiksberg wanted to create a green space, so the large old trees have been preserved, new ones have been planted and the stairways to the parking basement has been covered in green plants.

No NOx slabs that remove 10% of the harmful nitrogen oxides by binding them in the rock have been used, thus reducing air pollution. Moreover, the space has Denmark's first cloudburst reservoir where rainwater runs through the slabs to a reservoir that collects and cleans the water under the ground.

The project includes a further option for two parking areas of 200 and 400 parking spaces, respectively. Common to the projects is that the areas are established as coherent urban spaces both above and below ground.
Progress
October 2017
Ground Broken
"We must celebrate the excellent result, and I would like to thank the residents, staff and all our partners for a great and constructive process. It's not easy to carry out such a large project in a densely populated area, but all parties have cooperated exemplary."
Simon Aggesen
Borgmester, Frederiksberg Municipality
Contact for information about the construction project
Claus Møller


Director, Construction East

+45 75627900
cm@casa-as.dk